Helsinki Central Library
LOCATION
Helsinki,Finland
Introduction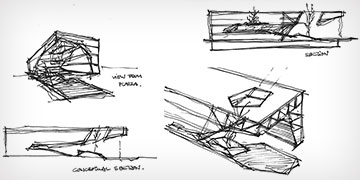 Helsinki Central Library
Located in the very centre of Helsinki, The ONYX – Helsinki Central Library forms seamlessly into the planned draft proposal of the Töölönlahti area, responding to the surrounding buildings, infrastructure and urban fabric.
ONYX will be a black precious stone that has the properties to both absorb and reflect its surrounding. It is able to reflect the urban fabric on the east side and at the same time to absorb the flow of visitors coming from the park on the west side.
In conclusion the ONYX – Helsinki Central Library will generate a new iconic public facility in the cityscape of the Töölönlahti (Töölö Bay) area. It will serve the citizens of Helsinki, not only as a practical, energy efficient and sustainable building but will also give to the city a new cultural identity.
Recognizable and remarkable, the new Helsinki Central Library will be reminiscent of a treasure chest of knowledge, where it will assuredly fulfill its role as the guardian of knowledge and culture and provide future generations with a place where learning is, before all else, sharing.